Pineapples are Panama's second most exported product, only behind bananas (source). According to Panamanian government figures from April 2016, the country's pineapple production generates 77 million dollars and provides direct jobs for 60,000 people. Europe is the main destination for the fruit, with a share of 70% of the exports. The US is also a major export destination, and smaller volumes are sold in the Caribbean.
Our Pineapple – the Sweet Golden MD-2
The MD2 pineapple, also known as Gold Extra Sweet, is of golden color along its outer crust and its external form is symmetrical and uniform and aesthetically pleasing. Originally introduced in 1996 by Del Monte and the Pineapple Research Institute, the MD2 pineapple has soared in popularity and its global demand has skyrocketed, due mainly to its organoleptic characteristics (i.e. great taste and smell), its high carbohydrate intake, and the contents of an enzyme that aids in the digestion of protein.

When originally introduced, the MD2 pineapple was also considered to be more aesthetically pleasing than other varieties, such as Smooth Cayenne. Its somewhat more square-shaped form also make it is easier to transport and display. Therefore, the MD2 pineapple variety, mainly cultivated in Costa Rica and Panama, gained large popularity and acceptance in western European markets. Growers in Central America including Panama benefited when major chains in Europe and western markets began demanding MD2 pineapple.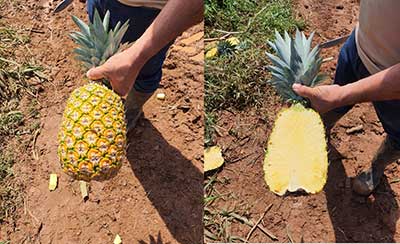 La Chorrera – Panama's Pineapple Heartland
Our farm is located in Panama's pineapple heartland. This is an area nestled between the growing city of La Chorrera, located just west of Panama City, and Lake Gatun, which is part of the famous Panama Canal system. This area has an established history as being ideal for growing the sweet MD-2 or Golden Pineapple variety due to the ideal micro climate that provides an excellent combination of the right kind of volcanic soil, elevation, rainfall, temperature and humidity.

In addition, this area has all the support items needed for efficient pineapple production; technical skills, labor, supplies, pack houses, distribution, etc. It also has excellent roads and infrastructure providing fast access to the biggest local markets of Panama Oeste and Panama City that are in close proximity. International markets in North America, Europe, and Asia can be accessed via Canal ports on the Pacific and Atlantic, as well as Tocumen International airport, only 37 miles away.

Important in terms of export too was Panama's decision to establish formal ties with China on June 13th 2017 (source).
The farm has been producing delicious Golden pineapples or MD-2 variety for many years and supplying the local market. Customers include the following supermarkets: Super 99, Riba Smith, El Rey, El Fuerte, Machetazo and El Pueblo.

But the MD2 pineapple variety has also gained large popularity and acceptance in western European markets over the past years. Its attractive yellow color makes it more aesthetically pleasing than other varieties and the somewhat square-shaped form make it is easier to transport and display. Our proximity to the canal ports and international airport means we can have fresh pineapples anywhere in the world and provides us with all the right conditions to capitalize on the export market. We're now mainly exporting our production by air & sea direct to Europe and the Middle East.

Because the climate in La Chorrera, where our farm is located, allows us to grow and harvest all year round, this also means we can also take advantage of premium pricing when pineapples are off season in another region.

Pineapples grown in the La Chorerra region of Panama are also known for their naturally sweet flavor and high Brix level. This is due to the unique micro climate and soil conditions. End consumers regularly send us positive feedback on the quality of our pineapples while every investor visiting our farm claims "they're the best pineapples they've ever tasted". And it's not just our own words making these claims. This Pineapples Market Overview article (Fresh Plaza November 2021) states in paragraph 8 that the best quality pineapples in the world are found in Panama in the months from April to January (so pretty much all year round!).
Global food insecurity is increasing...the slim excess of growth in food production over population is narrowing.
In addition, your pineapple investment land is located in the path of the largest most dynamic residential and commercial development area in Central America: Panama Oeste. With over 90 actively selling new residential projects along with major shopping centers, retail, commercial development and new infrastructure, the value of your farmland investment will increase in the coming years. With land in finite supply, an investment in Panama pineapple farmland is unlikely to depreciate in value.
Caimito Fruits: Panama pineapple grower's alliance
An export pineapple grower's alliance has recently been formed with our farm playing a key role. The alliance has been structured similar to the Ocean Spray Cranberry grower's alliance consisting mainly of small family-owned farms in Panama's "pineapple country" committed to growing premium pineapples for export by air shipment under the premium brand name of "Caimito Fruits" to upscale markets around the world.

This alliance has the full support of the Panama agriculture ministry and will be promoted at fruit expos and trade shows around the world. Simply put, Panama's growers produce the sweetest, best tasting pineapples in the world and the alliance will help create awareness and expanded markets for this premium brand.
Invest in pineapples in La Chorrera Panama today!
---